Successive Symbol digit modality test was used to assess concentration by visual scanning method (10). The baseline scores did not show any significant difference between music and control groups while, repetition of the test (done during and post exposure) showed improvement in scores in both the groups, and was significantly high in music group in post test sessions. These findings suggest that performance improves with repetition of a task or training and can be further improved when associated with soothing background music. These findings correspond to that of Savan A (1991) (6). Also the number of errors committed by the music group on repeated tests were progressively lesser (and statistically significant) compared to control group showing enhanced attention on the concentration task performed. Soothing music facilitates positive mood enhancement, reduces anxiety and causes optimal mental arousal which are all the requirements for best possible performance (11-13).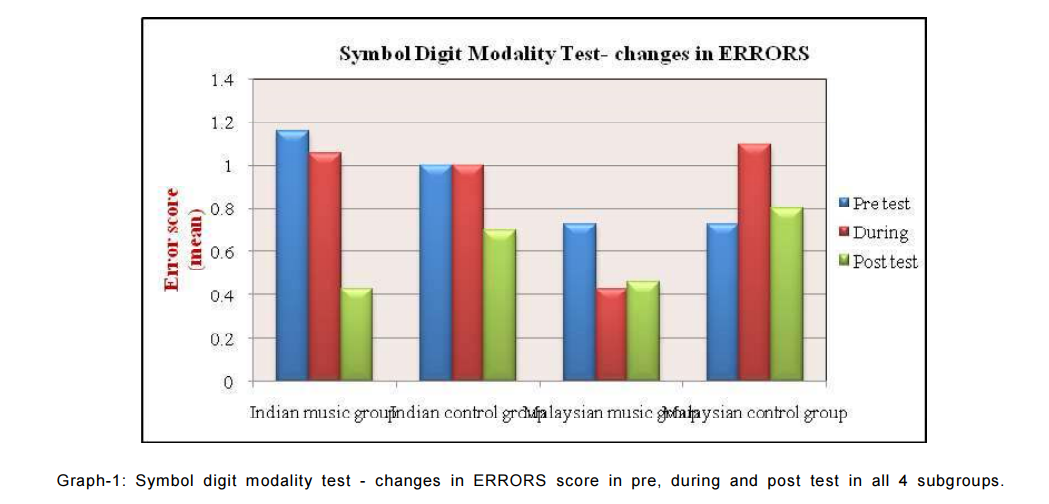 The results obtained in our study can be justified based on the "modality effect" which states that "Individuals who receive both auditory and visual information, both of which are processed in different parts of brain, learn better than those who use only resources involving visual system. Thus individual can perform two complex tasks with different modalities at the same time" (14, 15). Students in our study received both auditory and visual information, which increased their cognitive load and enhanced their performance. Our study contradicts the findings of Johnson (2000) (16) which recorded better results in the no-music conditions.
When the baseline scores of concentration were compared in the two ethnic groups, it was seen that Malaysian students had better concentration capacity than Indian student. Indian music group showed a significant effect of music on errors made in the concentration tests i.e. errors reduced significantly in post test sessions compared to pre test sessions, again upholding the concept of modality effect (14) Malaysian students in m usic group showed consistently better concentration ability throughout the protocol compared to all the other groups. Darrow et.al (2006) (17) and Bulatao RA (2004) (18) suggests that better concentration and the effect of music onconcentration may be due to an acquired skill or a personality trait which is further influenced by genetic makeup, economic, social, environmental, behavioral and many other factors. The favorable outcome of music on concentration test may be a personality trait of Malaysian students.
Conclusions
Performance improves with repetition or practicing a specified task, the improvement can be further enhanced by associating it with background instrumental music. Performance is best seen at the end of music session showing that, music can increase the required arousal to an optimal level. In Indian students, music decreases the number of errors. A predominant beneficial effect of music is seen in Malaysian students. It improved their concentration ability and divided attention significantly, and is probably related to either their personality trait or to their acquired skills.

Applications of the study:
If students are given soothing music sessions in between their classes for few minutes, their fatigue may decrease and enhance their concentration level for subsequent lectures.
Strength of the study: Malaysian students had never used the above said music before neither had any of the Indian students in our study. All the students in music group (Indian and Malaysian) expressed that they enjoyed the music session of 30 minutes for its soothing nature and expressed that it relaxed them.
Future scope: A larger and more diverse population of students can be used as subjects. Also multiple sessions of music, different genera's of music along with its effects on various other physiological parameters,