Materials required:
Thiopentone sodium (1 g reconstituted to 10 ml or 100 mg/ml) and 1 ml tuberculin syringe.
Dissection instruments: scissors, forceps (curved artery forceps and toothed forceps), wooden dissection board or rat dissection tray with four side hooks for tying limb, glass dissecting probes or glass seekers, dental scapula, and bone rongeur.
Unyielding-silk thread, warm paraffin wax or mineral oil, 0.9% normal saline, droppers, cotton, gauze pieces, cloth to pick up rat and gloves.
Power Lab 26T with Lab Chart 8 software digital data acquisition system, MLT0015 isotonic transducer with a ML221 bridge amp, MLA270 stimulator cable (BNC to Micro-Hooks), MLA40 manipulator with stand (AD Instruments, New South Wales, Australia), rod stand, pulley, pin hook, T connector for pulley (if required), connectors (for T connector and isotonic transducer, if required), calibration weights (5 g, 10g and 15g etc.), and a ruler or measuring tape.
Animal:
A male or female Wistar rat of weight 200-250 g.
Objectives addressed:
Define free loaded and after loaded conditions of the muscle.
Describe the effect of the above on the latent period, contraction phase, relaxation phase and height of contraction of simple muscle twitch.
Explain the mechanism of difference in the work done by the muscle under the two conditions.
Principle:
The effect of free loaded and after loaded condition in isotonic mammalian skeletal muscle contraction can be studied using in-situ nerve-muscle preparation in rat which mimics physiological conditions (intact blood supply with constant body temperature) very closely unlike the in-vitro nerve-muscle preparation regularly used for physiological practical demonstration. Using isotonic transducer free loading and after loading at different weights was done in sciatic nerve-soleus muscle in-situ preparation in an anaesthetized rat, and work done is calculated in each condition from the data collected and compared.
Experimental protocol:
Adult male Wistar rats (body weight 200-250 gm) were obtained from institutional (All India Institute of Medical Sciences, New Delhi, India) central animal facility. The protocol was approved by Institute's Animal Ethics Committee (65/IAEC-1/2018). The detailed procedure is described as follows:
Procedure:
Calibration
The calibration of weight or force and displacement in the isotonic transducer as per the instruction of the manufacturer (4).
Animal preparation for the surgery
Acclimatize the rat to the departmental animal house for one day with food (standard rat chow) and water ad libitum. After one day, keep the rat on overnight fast. Anaesthetize with thiopentone sodium injected intraperitoneally with a dose of 50 mg/kg body weight.
Surgery and in-situ sciatic nerve-soleus muscle preparation
Place the rat on a wooden dissection board and tie all the limbs with thread to four corners. Skin one of the legs from knee and down, dissect the soleus muscle free from surrounding tissue. However, keep the blood supply intake. Take utmost precaution not to damage or put any drag on the blood supply of the muscle.
Place a thread on the distal tendon of the soleus muscle just proximal to its attachment to the calcaneus. Release the distal attachment of the muscle by cutting such that a small piece of calcaneus is still attached to the Achilles tendon. Tie the thread to isotonic transducer with the help of a pulley system if need be so as to keep the transducer in line with muscle-tendon unit, and the pull of the muscle, with the soleus muscle parallel to tibia bone. This ensures physiological movement. Cut the gastrocnemius and plantaris tendons from that of the soleus. Split the fascia between the soleus and the gastrocnemius-plantaris about halfway up the soleus. This should be, however, distal to the blood vessels which supply the belly of the soleus. In this way, the movements of the gastrocnemius and plantaris will not interfere with that of soleus (5). Clamp the ankle and the middle part of tibia to make the leg immobile and stable. The origin of the muscle is immobilized (Fig. 1).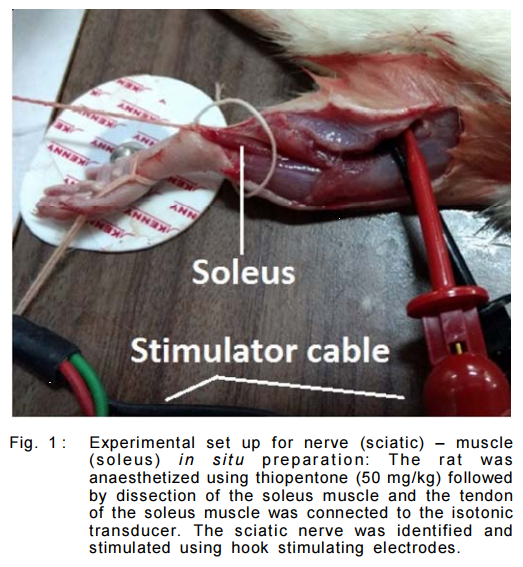 Identify the sciatic nerve and place stimulating electrodes of the PowerLab 26T. Make sure the soleus muscle temperature is around 37°C by pouring pre-warmed 0.9% saline constantly over the epimysium of the muscle (6). Warmed Krebs-Ringer solution may also be used (5). However, once the setup is done, warmed paraffin or mineral oil may be used instead by pouring it after making a container with the loosened skin of the hind limb being pulled around the sides of the exposed area of interest, so as to minimize evaporative heat loss and distribute heat evenly. A heat lamp may also be used. This is done to keep the temperature as close to body temperature as possible. However, make sure that the core temperature of the animal does not exceed 38°C (7).
Instead of using the in-situ sciatic nerve-soleus muscle preparation as above, one may use in-situ preparation of gastrocnemius (8) or medial gastrocnemius (6) or extensor digitorum longus (5) or tibialis anterior (9) etc.
Recording of muscle twitch under free loaded and after loaded condition
Example of weights used may be 5 g, 10 g and 15 g. The isotonic transducer is set in free loaded and then in after loaded condition at different weights. The sequence of free loaded and after loaded conditions may be randomized, or recordings are taken in all possible sequences.
The stimulus given is a single square pulse of 1 ms duration starting with 5 V, and gradually increased (e.g., by 0.2V) to find maximal stimulus or maximal voltage. A start delay of 10 ms, maximal repeat rate of 1 Hz and amplifier range of 5 mV may be taken. Different combinations, however, may be used as per the requirement. A 15 ms pulse at 1 Hz, or 0.2 ms pulse, or 50 µs pulse at 0.5V may also be used (5, 7). The sample frequency of 1 kHz or 2 kHz may be used. The above stimulus parameters were chosen after performing and recording muscle twitch using the in-situ nerve-muscle preparation.
The recording of muscle twitch in free loaded and after loaded conditions is done at supramaximal stimulus. This is taken higher (eg: 0.5V higher) than the maximal stimulus (5) or double the maximal voltage etc (7). Rest duration of about 1-2 min may be given between two successive stimuli (Fig. 2).
Data analysis and work done calculation
Export the data to data pad of LabChart 8 and excel.
Record the maximum twitch amplitude or maximal displacement. This is done for free loaded and after loaded conditions at different weights. Calculate the work done in both free loaded and after loaded conditions by using this formula: work done in ergs = weight (g) X maximum displacement (cm) X 981.
After the data collection, the rat is sacrificed with the over dose of anesthetic or neck dislocation while still under anesthesia.