Translate this page into:

doi:
10.25259/IJPP_266_2023
Teaching framework of basic sciences in medical curriculum: A literature review
1
Department of Pharmacology and Medical Education, Christian Medical College

,

Ludhiana, Punjab

,

India
*
Corresponding author: Dinesh Kumar Badyal, Department of Pharmacology and Medical Education, Christian Medical College, Ludhiana, Punjab, India. dineshbadyal@gmail.com
Received: , Accepted: ,
© 2023 Published by Scientific Scholar on behalf of Indian Journal of Physiology and Pharmacology
Licence
This is an open-access article distributed under the terms of the Creative Commons Attribution-Non Commercial-Share Alike 4.0 License, which allows others to remix, transform, and build upon the work non-commercially, as long as the author is credited and the new creations are licensed under the identical terms.
How to cite this article: Badyal DK. Teaching framework of basic sciences in medical curriculum: A literature review. Indian J Physiol Pharmacol, doi :10.25259/IJPP_266_2023
Abstract
Objectives:
The quantity, quantity, and timing of basic sciences teaching in the context of clinical learning have been a debatable issue for a long time. Therefore, this study was planned to evaluate the teaching framework of basic sciences in undergraduate medical education.
Materials and Methods:
The publications were collected through online searches according to predefined inclusion and exclusion criteria. Three reviewers analysed the data and arrived at a conclusion to select 90 publications. These publications were analysed thoroughly to classify them into ten categories of basic sciences teaching frameworks. Content analysis of these publications was done for comparison across publications.
Results:
The reviewer's rate of agreement for their conclusions varied between 89 and 94% for different phases of analysis. The most common category was 'Integration' (29%), followed by 'Problem-based/Case base learning' (18%) and 'Mixed-methods approach' (14%). The strategies being used in basic sciences teaching were mostly learner centred (68.9%).
Conclusion:
The review of basic sciences teaching frameworks in our study indicates that various frameworks of basic sciences teaching are being used in various medical schools throughout the world. The pattern of these frameworks can contribute to effective policy-making for improving basic sciences teaching.
Keywords
Basic science teaching
Clinical sciences teaching
Medical education
INTRODUCTION
Basic sciences have long formed the major part of the first 2 years of the undergraduate (UG) medical curriculum and have been taught predominantly by basic sciences faculty in some countries and clinical sciences faculty in other countries.[1,2] The Flexner report paved the way for the formulation of this traditional approach for teaching basic sciences in the initial 1–2 years followed by clinical science teaching.[2] This concept might have been relevant at that time as explained by the cognitivism theory of learning where the learner adds knowledge to their existing knowledge.[3]
However, there is renewed interest in optimizing basic science teaching to maximise its utility for learning clinical science.[1] This led to modifications of basic sciences teaching frameworks in UG medical curriculum in various countries at different times.
Several investigators have tried various interventions in basic sciences teaching based on various principles and theories. These experimentations include problem-based learning (PBL), integration of basic and clinical sciences, simulations/e-learning, computer-assisted learning (CAL), trimming or cutting down of content, and decreasing the time allocated for basic sciences in the first 2 years of a course.[2,4-8]
These changes in the quality and/or quantity of basic sciences teaching have been variable and debatable, especially from the point of view of basic sciences and clinical sciences faculty.[9-12] However, it is accepted by all that a foundation in basic sciences is important for applying scientific concepts to clinical situations.[10]
The information about the framework of basic sciences teaching, how it is being taught, methods used and innovations tried will help other countries like India, where there are further modifications of basic sciences.[13]
The research questions framed were as follows:
What are the most effective frameworks of basic sciences teaching to optimise clinical sciences teaching? and

Can a research agenda be set by analysing these frameworks of basic sciences teaching to optimise clinical science teaching in the UG medical curriculum?
Therefore, this study was designed to review the current literature and its categorisation as per the nature of frameworks of basic sciences teaching in the UG medical curriculum.
MATERIALS AND METHODS
In our study, we included basic sciences according to the world federation of medical education (WFME) definition, that is, 'anatomy, biochemistry, biophysics, cell biology, genetics, immunology, microbiology (including bacteriology, parasitology, and virology), molecular biology, pathology, pharmacology and physiology depending on local needs, interests, and traditions.'[14] We looked at those articles that included any of the above topics.
The free-text search was used to capture all potentially relevant articles. There were online searches using various sources based on the literature review. Keywords were used to add uniformity [Table 1]. Initial screening was based on titles/abstracts and was done as per our research questions and the study design. The full-length articles were obtained. The year of publication of articles ranged from 1994 up to 2017. During the second reading of articles, the relevant cross-references were searched using manual search and these publications were screened by applying inclusion and exclusion criteria.
Basic science
AND teaching
AND modifications
OR integration
OR preclinical
OR methods
OR education
OR learning
OR retention
OR reforms
OR innovations
OR trends
OR changes
OR modernisation
OR downsizing
OR impact
OR early clinical exposure
OR e-learning
OR simulations
OR problem-based
OR case-based
OR computer-assisted
OR mixed methods
OR clinical reasoning
OR diagnosis
Inclusion and exclusion criteria
Research, review, and/or innovative articles on various forms of basic sciences teaching frameworks in the context of clinical science teaching; research articles or review articles on potential/reported impact of basic sciences teaching frameworks on clinical sciences teaching and publications available as full-length articles were included in the search.
Articles in languages other than English and articles that reported only a minimal detail of their underlying basic sciences teaching framework were excluded from the study.
Data analysis
A qualitative analysis of data was done and consisted of three stages as described below:
Stage 1
The articles were thoroughly studied and analysed as per inclusion and exclusion criteria. The selection of articles was subjected to a second scrutiny by two independent researchers in medical education. The conclusions agreement rate of the three reviewers was 93% in their accepted list of key publications, which is within acceptable reliability agreement limits.[15] The process is depicted in [Figure 1].
Stage 2
The refined list of publications was categorised according to the underlying framework by which the basic sciences were taught. This process was carried out by two independent researchers and the principal author. Subsequent discussion of points of difference enabled an agreed list of ten educational frameworks to be identified [Table 2]. The validation of the selection of categories was done by reading the same publications by the principal author and two independent reviewers. The three reviewer's agreement rate of conclusions was 89%, which is considered to provide adequate reliability for the process.[15]
| Category (%) | Teaching framework |
| --- | --- |
| ECE (5%) | Use of SPs, meeting patients on day 1 of course |
| Integrated (29%) | Vertical integration/reinforcement in the final year, integration of e-learning, integration of cognitive skills, intellectual skills, and PBL, integration of social sciences, multidisciplinary, 18-month integrated module, concept mapping, short home works |
| CBME (3%) | Competencies developed, integration at all levels |
| PBL/CBL (18%) | The pairing of basic science and clinical science faculty, shared teaching strategy, use of IT, transfer of learning |
| Simulation-based (6%) | High-fidelity mannequins, full-body mannequins, anaesthesia use in pharmacology, care of asthmatic |
| eLearning/CAL (6%) | Dissection and computer-aided teaching; cases with digital images, movies |
| TBL/Active learning (1%) | Presentations, lectures, posters, and blogs by students |
| Contextual/clinical reasoning (8%) | Deep learning, analysis of prescription, 5-step evidence-based, causal relationships added, reduction in year 1 duration, clinical duration increased |
| Traditional (10%) | Didactic lectures, practical/clinical classes |
| Mixed (14%) | Overview lecture followed by PBL, Didactic lectures topped up with PBL/CBL |
Stage 3
Content analysis was done to arrive at a set of factors that could further characterise the framework for basic sciences teaching and provide some parameters to help define the context of each publication and provide a means of comparison across the whole list of 90 publications.[15] After many iterations, a stable set of factors emerged. To ensure reliability, a sample of 20% of the publications was independently coded with a reliability of 94, which was well within acceptable levels.[15] A further sample of 20% was recoded by the researcher to ensure internal consistency. The underlying teaching frameworks are listed in [Table 2].
Statistical analysis
The data in our study are depicted in percentages and numbers. We used the agreement formula to evaluate the agreement of conclusions between reviewers.[15] Student's t-test was used to compare pre-and post-intervention test scores. statistical package for the social sciences (SPSS) version 21.0 was used for descriptive frequency analysis and t-test.
RESULTS
Several articles were excluded after the initial screening of titles, as shown in [Figure 1]. The selected articles were from 23 countries [Figure 2]. Most of the studies were from the USA (30%), followed by India (13%) and the UK (8%). The maximum number of studies are from the years 2007 and 2016 (11.1% each). The year of publication of articles ranged from 1994 up to 2017 [Figure 3].
Most of the articles reviewed were original research articles (85.6%), followed by innovative articles (7.8%), invited articles (4.4%), and reviews (2.2%). Most of the studies (95.6%) were single centres and a few (12.2%) were multicentric involving 3–5 centres.[3,4,6,8,9,16-99] Most of the studies were conducted in schools and universities (82.3%) where a particular basic sciences teaching framework was being used.
[Table 2] depicts various categories of basic science teaching. The category of 'integration of basic sciences teaching' is being practiced approximately in one-third of studies (29%). This category included all studies involving vertical or horizontal integration or both. The level of integration was higher on Harden's Ladder that's why these studies were included.[100] This is followed by PBL/Case based learning (CBL) (18%) and the mixed-methods category (14%).
The traditional category (10%) included studies that were mainly based on traditional methods such as didactic lectures and practical classes. The contextual/clinical reasoning (8%) included studies that explored reasoning skills. Simulation-based and e-learning/CAL categories were equally represented (6%).
The year-wise category distribution of publication depicts that early clinical experience, traditional, and contextual/clinical reasoning studies are more in the latter half of the collection period, that is, the recent period [Figure 3]. The top three categories, that is integration, PBL/CBL, and mixed-methods studies are fairly distributed over the years. Simulation, competency-based medical education (CBME), and e-learning studies are not showing any consistent pattern and are sporadic.
Apart from the category of integration, integration was part of the basic sciences teaching framework in most (91.1%) of the articles.[17,18,21,34,74] Most of the studies involving integration used both horizontal and vertical integration (73.3%). About one-fifth of studies reported vertical integration (17.8%) and 1.4% of studies reported horizontal integration only. Integration started in year 1 in 62.2% of studies and after year 1 in other studies (18.9%).
Three-fourths of the studies (75.5%) used either a real patient or paper-based case in the basic sciences teaching framework. ECE was reported in a number of studies (62.5%). Information technology was used in approximately one-third (32.2%) of studies in various forms such as digitalisation of teaching materials, the use of videos, animations, computer simulations, high-fidelity simulations, and full-body mannequins. Most of the methods used in teaching-learning of basic sciences were innovative (80%). Some of these methods are given in detail in [Table 2].
Almost half of the studies (55.6%) included articles on multiple disciplines of basic sciences [Figure 4]. There were other articles where only one discipline of basic sciences was reviewed. Anatomy as an individual discipline was the concern of studies in basic sciences in one-fifth of studies (20%). In a study, team-based learning (TBL) was used in anatomy.[68]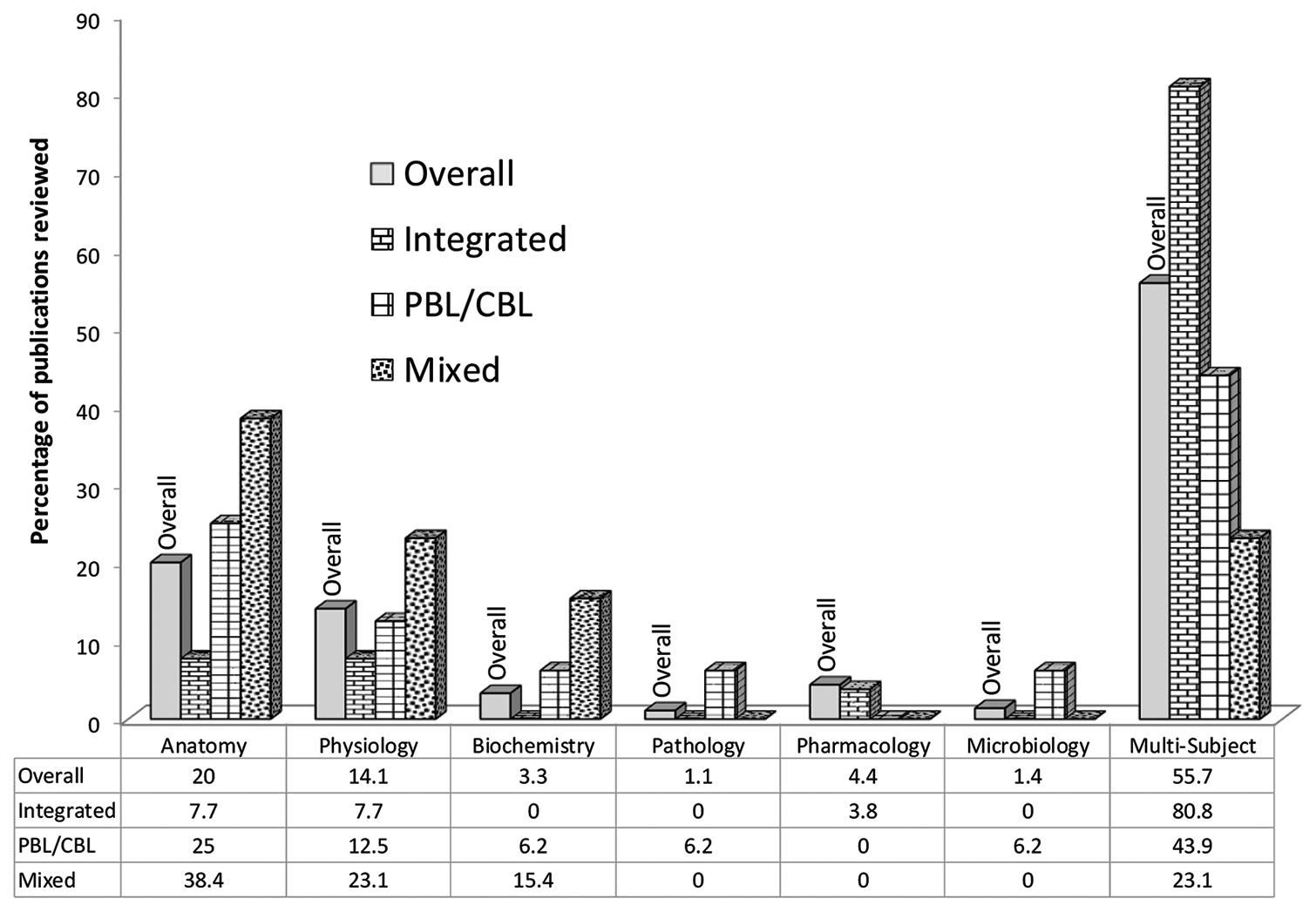 Since three main categories of basic sciences teaching framework came out to be integration, PBL/CBL, and mixed-methods approach, we also analysed the discipline-wise distribution of articles in these three categories. The integration category mainly involved articles with multiple disciplines (81%), PBL/CBL category included articles related to individual disciplines, especially anatomy and physiology (37.5%) as well as multi-discipline articles (48.8%). The mixed-method category included articles on individual disciplines, that is, anatomy (38.5), physiology (23.1), and multi-subjects (23.1).
The assessment was updated and modified in harmony with the implemented basic sciences teaching framework in approximately half (48.9%) of the studies [Table 3]. The updates in the assessment were slightly more prevalent in the integrated category (57.7% each) than in the PBL/CBL category (50%). The basic sciences were taught in the first 1–2 years in various frameworks (92.2%). There was no change in the overall duration of the course in most of the studies (94.4%). There was no change in the content of the overall course in half of the studies (48.9%). The contents of the overall course increased in some studies (16.7%) and decreased in other studies (13.3%), as shown in [Table 4].
| | Updated | Not updated | Partially updated |
| --- | --- | --- | --- |
| Overall course | 48.9 | 43.3 | 7.8 |
| Integrated | 57.7 | 38.5 | 3.8 |
| PBL/CBL | 50.0 | 50.0 | 0 |
| Mixed methods | 53.8 | 46.2 | 0 |
Increased
Decreased
Both
No change
Overall
  Overall course
16.7
13.3
21.1
48.9
  Basic sciences
16.7
53.3
1.1
28.9
  Clinical sciences
56.7
7.8
1.1
34.4
Integrated
  Overall
15.4
19.2
15.4
50.0
  Basic sciences
0
61.5
3.8
34.6
  Clinical sciences
53.8
0
3.8
42.3
PBL/CBL
  Overall
6.2
6.2
18.8
68.8
  Basic sciences
12.5
62.5
0
25.0
  Clinical sciences
62.5
12.5
0
25.0
Mixed
  Overall
23.1
7.7
7.7
61.5
  Basic sciences
38.8
38.5
0
23.1
  Clinical sciences
23.1
30.8
0
46.2
The constructivism theory can help to explain the intervention in half of the studies (46.7%). This theory was more useful to explain learning in integration and PBL/CBL categories. The cognitivism theory seems to be involved in one-fifth of the studies (19%) and is more related to the traditional intervention studies. The behaviourism theory is more related to contextual learning and is found to be associated with 4.4% of studies. The sociocultural theory is related to few studies (7.8%) and the rest of the studies had mixed interventions; hence, there was a mix of theories contributing.
DISCUSSION
The quality of publications was ensured by following the pre-decided inclusion and exclusion criteria. The subjective bias was minimised by the involvement of two independent reviewers apart from the principal investigator. The agreement of conclusions among reviewers was well within acceptable limits.
The year-wise distribution indicates the increased need to try and identify the best strategies as the number of publications increased after 2004. The country-wise distribution over 23 countries shows the need for optimisation of basic sciences teaching at international levels. The maximum number of studies were from the United States of America (USA) which might be because the reforms started in a major way in the USA after Flexner's report.[35] India and United Kingdom (UK) are next in the number of studies. India has a maximum number of medical schools in the country and implemented a new competency-based curriculum in 2019; hence, innovations are going on at various places.[13,78] In the UK, reforms in basic sciences are being tried at various medical schools.[101] In fact, WFME is trying for uniform accreditation as per defined standards in all institutes at the international level.[102] This has huge international implications as upcoming United States Medical Licensing Examination (USMLE) criteria to take students from accredited institutes will come into force in 2023.[103] Most of the experimentations involved single institutes indicating a lack of collaborative efforts which are needed.
The identification of ten categories of the framework in our study highlights the extent of experimentation in basic sciences teaching as well as uncertainty about the right recipe for optimal basic sciences teaching. Most of these studies were original research articles indicating that the investigator is trying to prove the utility of these interventions using scientific research methods. In educational research, we do not have gold standard designs like 'randomised clinical trials' to prove the efficacy of a drug.
The integration category was the most frequently tried intervention in the basic sciences teaching framework. Apart from the integration category, integration was involved to some extent in most of the other approaches used, for example, integration was part of PBL, CBL, early clinical experience, and contextual learning. The year-wise distribution highlights the increasing role of integration in recent years. Hence, our results depict a trend toward integration. The role and greater involvement of integration have been highlighted by various councils and associations.[16,104-106] Vertical integration is reported to stimulate students to have deep learning, a better understanding of basic sciences, and better retention of basic sciences.[30,76,79] Harden's Ladder of Integration is a good guide to look at the level of integration. There is still a gap in understanding the right amount of integration of basic and clinical sciences. A rule of 20:80 can be used. In basic sciences, years use 80% basic sciences and 20% clinical sciences and reverse it in clinical years.[2]
The second category of PBL/CBL studies spread over various years in our study indicates the preference for this student-centred approach. PBL is reported to be the mainstay of innovations in basic sciences for a long time followed by the introduction of CBL.[107,108] The flexibility and utility of the mixed methods approach have been reported earlier.[83] The top three categories had good representation over the years indicating consistent experimentation with these methods.
The fourth category of traditional methods indicates the usefulness of conventional methods even now. In one study, students were concerned about not getting a solid foundation in some core content knowledge.[104] In another study, students asked for some lectures in essential core areas even in integrated frameworks.[42] This indicates that the methods, even if traditional, need to be optimised for learning and can be useful if used appropriately.[37] In the contextual/ clinical reasoning category, the application of basic scientific knowledge was highlighted.[96]
Simulation and e-learning/CAL studies were not consistent over the years. The reason could be that these interventions depend a lot on technological advancements, the high cost of simulations such as mannequins, trained workforce, and other infrastructure support for simulations. Sometimes, high-fidelity simulations can be disruptive in the teaching-learning process.[47,94,109,110] The use of information technology was limited to one-third of the studies only. Although it was reported that technological advancement will be used more in the innovations, it was more of the concept of integration and use of cases in small groups which led the way in our review.[111]
The last three categories were represented with few studies only, that is, early clinical exposure (ECE), competency based medical education (CBME) and TBL. However, the low representation can be due to various reasons. The views of experts on CBME are debatable, and hence, this method has seen major ups and downs.[112,113] CBME studies were not consistent on time series and it shows that the competency-based or outcome-based approach is not evenly tried. On the other side, ECE studies are more in the later half of the time series indicating the picking up of this method. TBL is the least represented category. The earlier studies too reported limited use of TBL in medical education.[51,68]
The results of our study show that in most of the interventions, real patients or paper-based cases were used. This led to early clinical experience too. ECE was reported to be enjoyable and contributed to the learning.[71,78,80] This way the interventions were learner cantered in three-fourths of the studies. This shows a preference for the learner-centred approaches which have been postulated to be pivotal in learning.[114]
In our study, more than half of the studies involved multiple disciplines and were not limited to one or two disciplines only. The integration category studies and other studies with integration involved multiple disciplines indicating the importance of multiple disciplines for higher integration in both directions. Otherwise in other approaches, interventions involving a single discipline are also leading. This trend shows a shift toward the role of basic sciences collectively rather than individual discipline. In fact, the recent WFME guidelines define basic sciences as multiple disciplines.[102]
Assessment is one of the important pillars of any educational course. In our study, the assessment was not updated in approximately 40% of studies, especially in the integrated and PBL/CBL category. In the mixed methods approach, the assessment was updated. This is a very familiar situation where most of the time curriculum is changed without updating the assessment. Assessment is the most neglected part of curriculum planning and is left to universities to decide later on.[115]
The reduction in duration and contents in basic sciences needs to be carefully examined in light of the relevance in the overall teaching. In fact, a number of individual studies reported that the utility of basic sciences teaching improved when the relevant part was taught in the context of clinical application.[65,116]
Our review shows that basic sciences are being taught as 'relevant parts' only rather than traditional ways of learning full subjects before going to clinical sciences. One common theme of all interventions was to increase clinical sciences content and decrease basic sciences content or in other words to teach relevant basic sciences in the context of clinical sciences. This goes well with a renewed understanding of evolution in learning theories. The theories involved in learning in basic sciences are postulated to be varying based on the type of approaches used.
In our analysis, we found that constructivism theory played a significant role in integration approaches in basic sciences teaching. In the PBL/CBL category, learning can also be explained on the basis of constructivism.[117] A mixed-method approach involved more than a single theory, but the conglomeration of stories was not very scientific. However, it is difficult to associate one single theory with learning. When these theories are viewed in the ascending stages of learning these theories complement each other and are more like a part of evolutionary sequences in learning.
This is depicted in various interventions used in the publications that we reviewed in this study. There is ascendency in categories from cognitivism (traditional) to constructivism (integration, PBL/CBL) to sociocultural and behaviourism (learning in context, in the community) to critical (societal changes) and to humanism (own growth). In this era of information explosion and easy availability of knowledge, we need to look at theories that remain relevant.[117]
CONCLUSION
The review of basic sciences teaching frameworks in our study indicates that certain gaps do exist in our understanding. The gaps or issues of concern that can lead to the formulation of a research agenda to optimise clinical science teaching can be viewed as opportunities for improvement. The results can help in effective policy-making for improvising the basic sciences in terms of contents, context, duration, and the way it is being taught. However, this needs to be interpreted in light of clinical experience and expertise. This will help to optimise the utility of basic sciences teaching to improve clinical sciences teaching in UG medical education.
Declaration of patient consent
Patient's consent not required as there are no patients in this study.
Conflicts of interest
There are no conflicts of interest.
Use of artificial intelligence (AI)-assisted technology for manuscript preparation
The author(s) confirms that there was no use of Artificial Intelligence (AI)-Assisted Technology for assisting in the writing or editing of the manuscript and no images were manipulated using the AI.
Financial support and sponsorship
Show Sections